07/02/2015 - 07/06/2015 - All Day at

The Mount Baker Bicycle Club (MBBC) and the Northwest Tandem Rally (NWTR) announce Tandem Diversity NWTR 2015 July 2-6th in Bellingham. This five-day rally, which will include supported bicycle rides, banquet, vendor fair, and multiple special events, is expected to bring 700-1000 bicyclists to Whatcom County.
Tandem rallies are not just for "bicycles built for two." There will be triple bikes, quads and even quint-seated bikes. Single bikes (which tandemers call "half bikes") are also encouraged to participate.
07/03/2015 - 07/19/2015 - All Day at

The Bellingham Festival of Music is one of America's premier virtuoso orchestra festivals. Each summer the Festival returns to Bellingham to perform a repertoire of the finest symphonic music. Members of the orchestra all hold artistically prestigious positions elsewhere, and many of them are principal players in major North American symphony orchestras. The Festival also features world famous guest artists and young rising stars. Fpr a full schedule of performances, click HERE.
07/03/2015 - 12/04/2015 - 6:00 pm - 10:00 pm at Downtown Bellingham
1300 Bay Street
The first Friday of every month, the Downtown Bellingham Partnership invites you to explore the diversity of art venues in downtown Bellingham. Talented artists, unique galleries, delicious restaurants await attendees of the monthly Art Walks in downtown Bellingham. Art Walk maps and lists of venues will be available at the participating venues!.
07/04/2015 - All Day at Downtown Blaine
728 Peace Portal
Spend the day celebrating the 4th of July in Blaine. Day-long activities include a pancake breakfast, a parade at Noon, an art & crafts street fair with over 80+ vendors, a show & shine, live entertainment, and plenty of good food. Get your spot in Blaine Marine Park for a community picnic and jazz concerts. Ride the historic Plover Ferry from Blaine to Semiahmoo Resort where you can make an afternoon and evening of it watching the fireworks over Semiahmoo Bay!
07/04/2015 - All Day at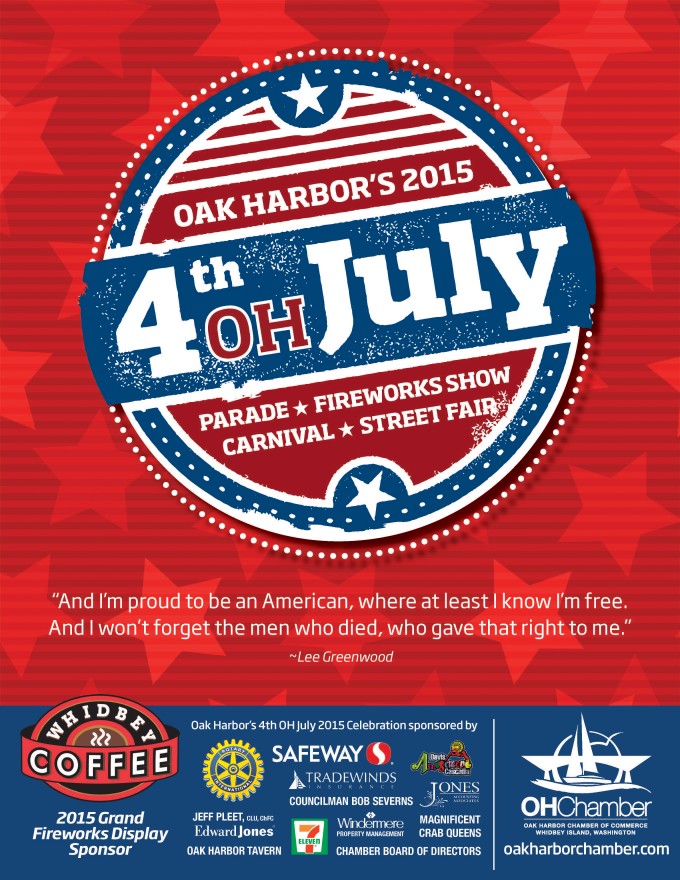 07/04/2015 - 8:00 am - 11:00 am at Blaine Senior Center
763 G St.
Start 4th of July out right with a delicious pancake breakfast featuring pancakes, eggs, sausage, OJ and coffee. $6 adults and $4 for kids 12 and under!…Then wander downtown to the Old Fashioned 4th of July Celebration in downtown Blaine.
07/04/2015 - 9:00 am - 4:00 pm at Zuanich Point Park
2600 S. Harbor Loop
The newest addition to the Haggen Family 4th of July Celebration will give the area's hoop stars a chance to shine! Our area's first ever Hoop It Up 3×3 Tournament will be held on Saturday, July 4 at Bellingham's Zuanich Park.
Hoop It Up is the premier 3-on-3 basketball tour in the United States. Since 1989, Hoop It Up has reached more than 500,00 athletes. Our Hoop It Up tournament, presented by Haggen, is currently the only Hoop It Up event scheduled to be played in Washington in 2015. 
Each team must consist of four players: three starters and one substitute.  Games are played under FIBA rules on half-courts. Divisions include categories for youth, recreational adult, competitive adult, and height requirements. Winners and second-place finishers in each division will receive an award.
"Hoop It Up is great for adults who play pick-up games at the gym, or kids who play together in their neighborhood. Anyone from pros to couch potatoes can compete," said Bellingham/Whatcom Chamber of Commerce President/CEO Guy Occhiogrosso. "It's also ideal for high school basketball players who want some competition while staying in shape, or college students who are looking for a summer alternative to intramurals."
Teams may sign up directly through the Hoop It Up website. Anyone age 8 or above is welcome to form a team. The team registration fee ranges from $100-$140 depending on the division.
07/04/2015 - 10:00 am - 11:00 pm at Zuanich Point Park
2600 S. Harbor Loop
For nearly two decades, the Bellingham/Whatcom Chamber of Commerce & Industry has partnered with Haggen Northwest Fresh and the Port of Bellingham to provide the community its fireworks display.
The festival includes vendor and craft booths, live bands and old-time games for the kids. At 2pm, the beer garden opens!  And new this year, they're adding a Hoop it Up all ages 3-on-3 basketball tournament, sponsored by Haggen!
Old-time games begin at 11 a.m. Activities will include a water balloon toss, watermelon rolling, sack races and a scavenger hunt.
07/04/2015 - 6:00 pm - 10:00 pm at Elizabeth Station
Holly & J Streets
The Yes, We CAN! Canned Craft Beer Festival is July 4th from 6-10pm. It's an all-ages street festival, taking place next to Elizabeth Station in Bellingham. Yes, We CAN! features more than 40 breweries, cideries and meaderies showing off their best canned libations, along with live music from Polecat and Wild Rabbit. Plus, there's front-row viewing of the fireworks display over Bellingham Bay. Tickets are only $20 in advance ($25 at the door), and admission includes 3 drink tickets. Kids 14 and under get in free. Buy tickets online or at Community Food Co-ops, Kulshan Brewery, Elizabeth Station or The RE Store. All proceeds benefit RE Sources for Sustainable Communities.
07/06/2015 - 07/11/2015 - All Day at

The Drayton Harbor Music Festival, aka the Blaine Jazz Festival, is six exciting days of rehearsals, combos, improv, composition, and other great classes for teens with an internationally recognized faculty culminating in a jazz concert featuring student big bands, combos and vocal groups PLUS multiple performances by visiting jazz artists. Sponsored by the Pacific Arts Association, an all volunteer organization, that produces annual series of concerts by professional artists throughout the year in Blaine at the Blaine School Performing Arts Center.
<
1
2
3
4
>